120 trees to celebrate Earth Day.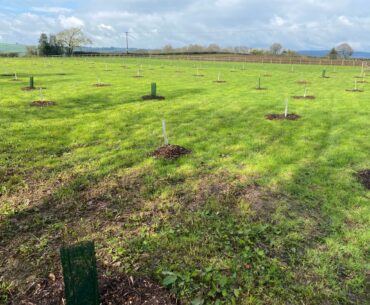 To celebrate Earth Day, which is taking place on Saturday 22 April, Maygothling Waste Managing Director, Jonathan Mayglothling has planted 120 trees at the company's headquarters in Kington, Herefordshire.  This plethora of trees, encompass a wide variety of species including Silver Birch, Scots Pine, Hazel, Hawthorn, and Willow.
The roots of Earth Day go back to the 1970's and in 2009 the United Nations General Assembly designated 22 April as International Mother Earth Day.  Earth Day presents an opportunity for everyone to pause and think about their actions to protect the planet for future generations.
Jonathan Maygothling comments "We can all do our bit to safeguard the future of our planet.  At Maygothling we take all our waste management very seriously with environmental responsibility at the very centre of our ethos.  This isn't just a throwaway strapline either with everything we do is compliant with the Environmental Agency regulations.
Planting these trees at our head office is another way of demonstrating this commitment to the future of our planet plus in time, they will enhance the aesthetic environment for all our employees".
Back to articles