Sewage Treatment Plants
With more than 40 years' experience in deploying waste management solutions, we are proud to work with some of the leading sewage treatment plant suppliers including Klargester, KEE Process and WPL. In line with our efforts to ensure responsible waste disposal, we believe that a sewage treatment plant is the most environmentally friendly waste management solution for rural homes and business premises. This is because wastewater treatment begins almost instantly through its sludge activation process, meaning only clean water is dispensed back into our waterway. But we wouldn't suggest you take a sip!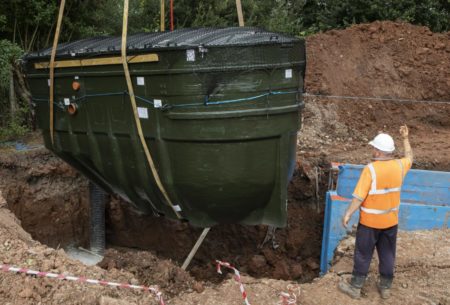 Installations
Looking to have a new Sewage Treatment Plant installed? It can be complicated work, so requires a lot of expertise. Luckily, our builders and electricians have that in abundance. We will undertake all of the necessary installation work to an excellent standard. All logistics will be taken care of, the site will remain safe and secure, and the system will be deployed in an environmentally friendly manner.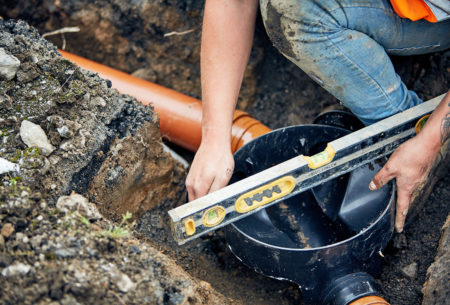 Maintenance & Repairs
A blocked or malfunctioning sewage treatment plant can cause a real problem. We can undertake emergency repairs, but also carry out regular emptying and maintenance throughout Herefordshire, Shropshire and Wales to prevent issues from occurring. We want you to enjoy the benefits of your sewage treatment plant for years to come; for this to be a possibility, your system should be reviewed by a professional engineer at least once per year. Luckily, Mayglothling have the knowhow to make certain your system will continue to run smoothly.
An Emphasis On Our Environment
The General Binding Rules, enforceable from January 2020, aim to reduce the amount of contaminated water that enters our lakes, streams and rivers. From this date, any septic tanks that discharge waste into waterways must either redirect this to a compliant drain field, or be replaced with a sewage treatment plant. That said, installing a sewage treatment plant alone does not guarantee compliance. The Environment Agency advise that a sewage treatment plant must be installed and operated in accordance with manufacturers guidelines, with most recommending annual servicing and emptying.
FAQs
Yes, our 24-hour emergency callout service guarantees a quick and convenient solution. Call us now on 0800 051 9345.
Maintenance requirements vary depending on the make and model of your sewage treatment plant. We can provide one-off maintenance and repairs, or ongoing maintenance contracts. Chat to our expert sales advisors today on 01544 230 364.
Whether you're located on a small lane or have a narrow entrance, we will be able to get to your property and empty your sewage treatment plant.
Our expertise means we are a good source of advice for anyone with a household waste disposal query. Our waste management experts deliver clear advice on ensuring systems are working correctly and are environmentally friendly. Just call our waste management experts on 01544 230 364.
Mayglothling were recommended to us after our previous supplier had issues with accessibility. The quality of work has always been to a high standard. Not only were they able to get us out of a very sticky situation, but also helped us deploy a new sewage treatment plant. We were all very relieved.
Deb Evans, Glaslyn Residential Home
Managing Waste Responsibly
At Mayglothling, we understand the negative impact of irresponsibly disposing of waste. We take responsibility to ensure all waste collected is disposed of in an environmentally friendly way. We even have our own commercial Sewage Treatment Plant that turns waste into water fit for our rivers.
Environmental Ethos