5 things to check BEFORE you buy a house with a septic system
1. Is it compliant?
The General Binding Regulations (GBR) came into effect last year. This means it is no longer legal to discharge waste water within 50m of a watercourse. If the property is close to a river, stream or pond it may need to be upgraded to a water treatment plant. 
2. Is it the right size?
Rural properties are often extended but expanding the capacity of the septic system is often forgotten. The minimum septic tank size for a 4 person household is 2720 Litres, with 180 Litres added for every extra person. 
3. Are there trees growing nearby?
You should never allow trees or shrubs to grow near your septic tank, drainage field or drainage pipes. Tree roots can cause a huge amount of damage to both the structural integrity of your tank as well as the overall efficiency of the system. The majority of collapsed drains we investigate are as a result of root damage. 
4. Does it have a service history?
As per the GBR, a septic tank or water treatment plant should have a service history of at least 7 years. This often isn't the case, especially with old systems. You should ask the vendor for any records that they have in relation to their septic system. For Mayglothling customers this information is available on request. 
5. When was the last time it was emptied?
It's a common misconception that a septic tank doesn't need to be emptied. We hear it all the time. Often when we've been asked to visit a property due to the drainage field failing. 
A septic tank should be emptied every 18 months or sooner if it's full. If the tank is filling up quicker than expected then it's a sign that the system isn't working properly.
Are you considering buying a property with a septic system? The time to act is now. We recommend you contact us to have a home drainage survey of your potential new property as soon as possible. Our drainage survey can identify any issues or damage that may result in your system being non-compliant, potentially saving you thousands of pounds.
Find out more information here;
https://mayglothlingwaste.com/sewage/home-buying-surveys/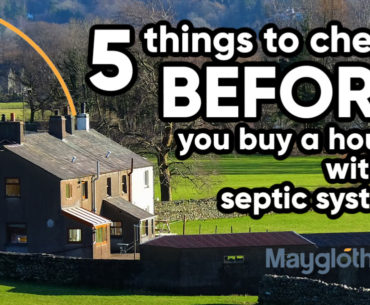 Back to articles