How to keep your septic tank happy this Christmas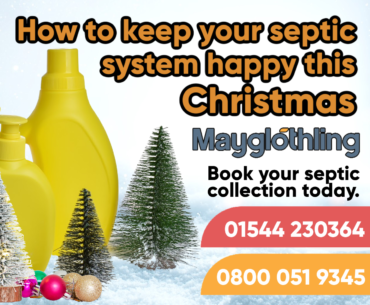 Many of us will be having guests staying over the Christmas period, but what does that mean for your septic system? How can you keep your system functioning at peak efficiency while it deals with the extra volume of organic matter?
Here are our top 5 ways to keep your system flowing….
Get it emptied
Your septic system can't function properly if it's full. A septic tank should be emptied every 12-18 months as per the manufacturer's instructions. Having your system emptied before Christmas guarantees that you wont need to call us and book a collection unexpectedly due to the increase in workload. 
Get it serviced 
Preventative measures are always better than reactive ones. Regular inspections mean that issues can be identified and repaired quickly before they become worse. 
Make your home more water-efficient
Extra guests will already be putting a strain on your septic system. Constantly overloading your system with too much water can cause it to become weakened, damaged or blocked. 
By making your appliances more water-efficient, you can reduce the workload of your septic tank, and thus extend its lifespan.
There are lots of ways to save water. Installing energy-efficient toilets or showerheads and only using the washing machine when you have a full load can make a big difference to the amount of water your system needs to process.
Only use it as intended.
What we mean is, don't flush anything down your drains that you shouldn't.
Things you should never put into your septic system are;
Fats, oils or grease

Disposable diapers

Wet wipes

Coffee grounds, egg and nutshells

Cigarettes with filters inside

Feminine sanitary items

Paper towels & napkins – These are not designed to dissolve in water and can block your system in the same way baby wipes do.

Paints or chemicals – especially avoid bleach, pesticides and disinfectants containing high levels of phosphates.
Protect your drainage field
Where your septic system drains to can be just as important as the tank itself. A waterlogged drainage field cannot allow water to escape a tank effectively. Never park or drive on your drainage field and avoid planting trees or large plants in the area as this can cause root infiltration. 
We provide regular sewage treatment plant or septic tank emptying and maintenance packages to prevent blockages and flooding, in fixed-price 3-year contracts. This will give you peace-of-mind that you won't encounter an emergency any time soon. We'll also get in touch to remind you when your system is scheduled to be serviced.
To book a collection, service or to enquire about our service plans, give us a call on 01544 230364
Back to articles