Local Stream Saved from Potential Contamination by Domestic Sewage
WPL Diamond DMS3 Sewage Treatment Plant replaces outdated septic tank system and ensures homeowners comply with General Binding Rules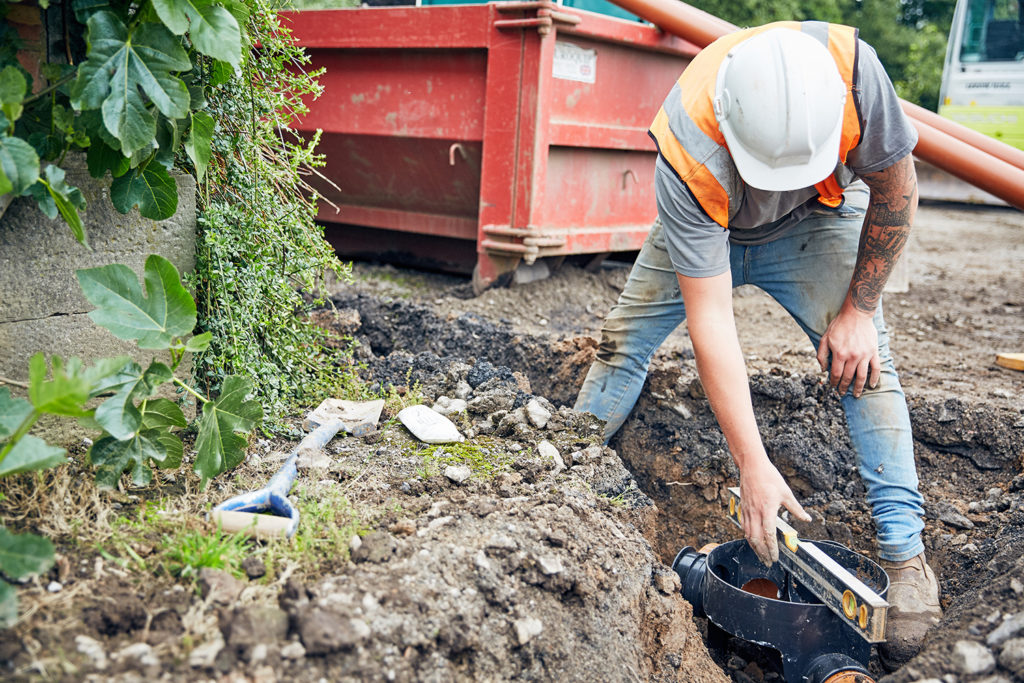 The Problem
Project: Sewage Treatment Plant Installation
System: WPL Diamond DMS3
Location: Staunton on Arrow, Herefordshire
Benefits: Environmentally friendly. Future-proofed.
Following the purchase of a new property in Staunton on Arrow, Andy Truelove was delighted to have found his own paradise by the river. There was only one problem; the septic tank at his new home was on the brink of complete failure. To complicate matters further, the house was previously converted from an old industrial Sawmill complete with its own underground hydro power plant, which still exists today. This would make it difficult to navigate the existing underground pipework and chambers to deploy a new sewage system.
The Solution
This was a complex brief that required true expertise. Andy contacted Mayglothling, a trusted provider of total waste management solutions, to ensure the incumbent system was still operational while a new, environmentally friendly sewage system was deployed. The modern, future-proofed WPL Diamond DMS3 Sewage Treatment Plant was chosen because it mitigates the risk of contaminating local streams and rivers, and ensures compliance with the General Binding Rules. Throughout the process, Andy expressed confidence that he was working with a responsible waste management partner.
Mayglothling's team were friendly, approachable and professional, with an excellent attention to detail
Andy Truelove, Herefordshire
A professional service from a team of experts
Andy recently purchased his new dream home in Herefordshire's rolling countryside, however, he was unfortunately experiencing several issues with his septic tank and soakaway, which was leaking and had a broken inlet pipe. This could potentially cause contamination in a nearby stream, and therefore needed addressing quickly. To keep the septic tank operational while also deploying a state-of-the-art sewage treatment plant, Andy contacted Mayglothling's waste management experts.
Speaking about his experience, Andy stated: "We chose to work with Mayglothling Waste because we felt it was a very professional business with a vast amount of industry experience and expertise. We were confident they would be able to carry out the Sewage Treatment Plant installation to a high standard.
"It was important to us that while this work was carried out we were able to continue using the septic tank so we could go about our daily lives. This wasn't easy as the tank had some serious issues. We had to call on Mayglothling three times in urgent scenarios just to keep the system operational. This was incredibly stressful, but each time Mayglothling's response was fast and professional, making us feel at ease."
Andy continued: "The quality of the work carried out was simply fantastic. We've never had a large groundwork job done before so had many questions during the process, and Mayglothling's team, especially Foreman James, were very attentive and answered all of the queries we had. The entire process, from first contact to sowing new grass seed, was second to none."
Ensuring a sustainable installation
Project Foreman James said, "The septic tank was leaking and the inlet pipe was broken. We were therefore concerned that the leaking tank could contaminate a nearby stream. That is why the WPL Diamond DMS3 Sewage Treatment Plant was chosen, a premium solution that would not only stand the test of time, but also operate in a much more environmentally friendly way."
Sewage Treatment Plants are a recommended, environmentally friendly alternative to septic tanks as rather than relying on scheduled removal of sewage, waste is treated on site and discharged to an appropriate waterway. James continued, "Taking care of waste is central to our responsible ethos at Mayglothling, and we feel the Sewage Treatment Plant we have installed for Andy is a much more sustainable solution."
Complying with the new Binding regulations
In January 2020, The General Binding Rules will begin being enforced. This is a regulation that aims to reduce the amount of contaminated water that enters our lakes, streams and rivers. From this date, septic tanks will not be allowed to discharge waste to any type of waterway, from surface water drains and rivers, to ditches and streams.
James concluded: "The new General Binding Rules have forced many people to think about deploying more sustainable sewage solutions. We feel in this instance a Sewage Treatment Plant was the perfect answer, helping to ensure compliance with the new regulation and make certain that only clean water finds its way into our river network."
Find out more about our sewage system installations.
Back to articles